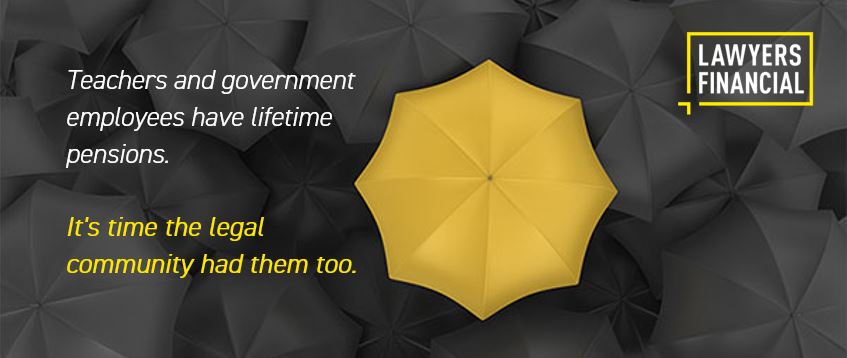 Most employers in Canada are small to medium sized enterprises that just do not have the resources to implement and monitor a retirement arrangement, let alone take on the extra cost of administration and fiduciary governance. Many get by with an off-the-shelf group RRSP – which is better than nothing at all. 
But research shows that the majority of private sector employees do not have a pension plan and may not be adequately prepared for retirement. Stats Canada data from December 2018 shows the following:
Canada's total workforce with pension coverage:  47%
Private sector employees with a pension: 23%
Of the 23% in the private sector, the vast majority are union members who historically have negotiated defined benefit plans in their collective agreements. Most of the rest have defined contribution plans.
For the legal community, the numbers are even more bleak. And that is no surprise. It is simply unrealistic to expect individual law firms, regardless of their size, to assume the financial, fiduciary and administrative burdens of a defined benefit plan. In fact, most law firms have no pension arrangements at all – Defined Contribution (DC) or Defined Benefit (DB). 
NEW! A Defined Benefit Pension Plan for Law Firms
In 2016, a Lawyers Financial task force, comprised of leading pension and actuarial experts began investigating pension options. The result was a decision that the CAAT Pension Plan was the best option to provide predictable and sustainable lifetime pensions for Canada's legal community through a defined pension plan - DBplus. 
CAAT is an $11 billion not-for-profit trust that has been delivering secure lifetime pensions for over 50 years. In 2018 CAAT launched DBplus, a plan that allows private sector employers to join. DBplus combines the best features of DC plans (cost certainty) with the best features of DB plans (predictability and cost efficiency for employers and valuable lifetime benefits for members).  
Lawyers Financial is currently working with CAAT to enable law firms of all sizes to provide predictable, cost certain, cost effective, adequate and sustainable workplace pensions through DBplus. The result will be a pension plan available to all Canadian law firms that has none of the legal or financial risks associated with managing their own plans. The main law firm obligation will be to set up payroll deductions and remittances, just as they do now for CPP.
Everyone benefits.

DBplus eliminates the funding risk for employers and creates a reliable retirement pension income for lawyers and staff.  
For employees
Earn predictable and secure pension benefits payable for life
Reduced stress without the burden of having to make complex investment decisions
Existing registered funds may be consolidated into DBplus
Security of a pension that is "portable" within the legal profession
For employers
A compelling attraction and retention tool
Reduced cost and risks along with ease of administration
Eliminates compliance and fiduciary risks
A tool to ensure employees can transition to retirement with confidence
The Bottom Line
Members participating in DBplus earn a guaranteed lifetime pension, equal to 8.5 percent of total (employee and employer) contributions, accumulated with inflation. On average, a member who participates over their entire career in DBplus is expected to receive approximately $8 in benefits for each $1 they contribute. 
DBplus for the legal community is expected to launch in mid-2020.  
Want to Know More?